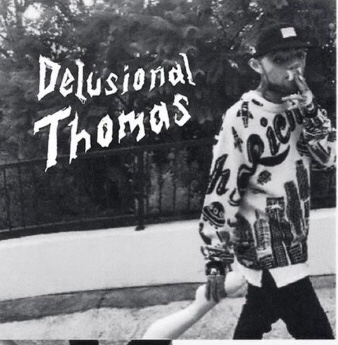 One day over five years ago, Mac Miller unearthed his sinister brainchild unto the masses. The end result was "Delusional Thomas," a macabre individual with a penchant for inhaling helium and amassing a stack of cadavers. Many were surprised to see the generally affable Mac flirt with horrorcore; Delusional Thomas emerged during an era of artistic splendor, which found Mac delivering fan favorites like Watching Movies With The Sound Off, Faces, and GOOD AM. Yet the presence of Delusional Thomas hung like a cast shadow, a snaggle-toothed cousin no longer welcome at family gatherings.
One such standout cut finds Thomas trading verses with Earl Sweatshirt and the simply named Bill; while each party paints a picture, the titular rapper closes things off with an important turn. So the story goes, Earl and Mac were writing their verses, which consisted primarily of "stupid shit." Yet apparently, that changed when Mac's homie Bill entered the fold.
"His homie went in from Pittsburgh, just some random-ass n****, and just went in, and we were like 'it's you're turn," explains Earl, to Sway. "And that n***a WENT IN, like very seriously." After, both rappers had to rewrite their verses, cause, by Earl's own admission, Bill "bodied everyone."
Relive Delusional Thomas a day after its fifth birthday. Long live Mac Miller.
Quotable Lyrics
Look, fuck these writtens, I don't watch 106 and Park
I skate through the park in my 106's
Smoke blunts in the dark with some porno bitches
You just see the spark in the blunts like I'm porno flicking
Got the hormones tripping, I'm more so dripping
Daily Bread's tatted on the chest of my torso
And it's never gonna fade unlike my eyes
So I go trip like Psilocybin, eyes wider than Ohio
– BILL